Description
Plastic ASTM Presses with Chase Frame Kits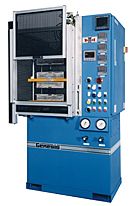 ASTM Presses for plastics and other materials
Wabash presses are specially configured to perform the compression molding of test plaque or bar specimens of Type 1-5 polyethylene. The procedure is in conformance with ASTM Method D 4703, Procedure C. The presses are equipped with heating/cooling platens and a programmable digital controller which has a heating/cooling loop for each platen and built-in program for the required 15°/minute +/-2°C cooling rate.
ASTM Plastic Standard Features:
Clamp force 1500 lbs. to 30 tons
Single or dual daylight openings (6" each)
Heated and cooled platens (500 deg F. Maximum)
Platen size: 12″ x 12″
Programmable controller with HMI and ramping TCU's with remote setpoint capability
Cycle counter thru PLC
Automatic low pressure system
Automatic transition from closing to pressing speed
Closing speed 70 IPM (approx.)
Pressing speed 5 IPM
OSHA approved operating system
Pressure relief valve with analog pressure gauge
Integral hydraulic system with high-efficiency TEFC motor, reservoir & water-cooled heat exchanger
Clamp area guards with keyed interlock
Electrical supply: 460/3/60 (other voltages available)
Hydraulic Options:
WaterSaver valve for heat exchanger
Mechanical Options:
Work table
Power operated safety gate (in lieu of standard manual gate)
Multiple daylights
Electrical Options:
Cycle counter (with keyed reset)
Chart recorder Light curtains
Light curtains
Audible or visual alarms
Clamp area lighting
220, 380 or 575 volt operation
UL, CUL or CSA configurations available
ASTM Chase Frame Kits
Catalog Number
Description
Teflon Coated
Stainless Steel
Brass
100 Mylar Sheets
4″ x 4″ Chase
4079
4080
4081
4161
6″ x 6″ Chase
4082
4083
4084
4162
8″ x 8″ Chase
4085
4086
4087
4163
Hydraulic Compression Presses for ASTM Testing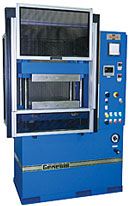 Genesis Hydraulic Compression Press for Rubber Testing in Accordance with ASTM D3182
The Genesis Series Hydraulic Compression Press, Model G50H-19 ASTM is specially designed to vulcanize rubber sheets to provide samples for quality control, research and development and material comparison to prepare sheets for material property testing in accordance with ASTM D3182.
Bump, breathe, degas
Temperatures up to 500°F
Features of the Rubber ASTM Presses:
Specially designed platens for improved temperature uniformity (only on 2.5)
19″ x 19″ platens accept all standard sample mold sizes
Adjustable clamp force: 8 to 50 tons
Self contained hydraulic unit
Allen Bradley PLC with operator interface
1/16 DIN digital temperature controllers
Fully guarded clamp area with interlocked operator gate
Optional contact gauge for quiet operation
Optional low pressure system for operation from 2 to 50 tons
Automatic bump