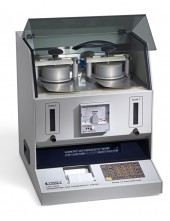 Manometric gas permeation analyzer Lyssy L100-5000
A versatile gas analyzer for measuring the permeability of any common gas or gas mixture through films and foils.
Typical gases measured include air, oxygen, nitrogen, carbon dioxide, hydrogen and helium. This instrument utilizes the manometric principle one of the most recognised gas permeability testing methods – pressure change via gas transmission through films.
With two measuring chambers, ease of operation through the alpha-numeric keyboard and digital di…