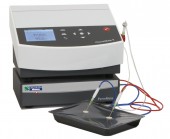 Versatile and patented method of oxygen permeability analysis for packages, bottles and film
The PermMate utilizes a patented method of oxygen permeation analysis of sealed packages. The permeability and the barrier qualities of a foil changes when it is shaped into a finished package and as a result the shelf life of the food products can be affected. Therefore, it is important that the package is tested at this stage.
This oxygen permeation analyzer is designed to measure the oxygen ingress of the package and to calculate the oxygen transmission rate. It can test numerous packages simultaneously. In addition, it can determine volume, headspace O2% measurements and nitrogen flushing of packages. Knowing the volume of the finished package can be a valuable tool in monitoring the total gas consumption during production and can provide documentation of volume for transportation requirements. Also, the exact impact on the permeability can be established resulting in better knowledge about the shelf life of the product. Sample extraction can be as low as 3.5ml for each measurement.
This instrument can also test packages in a wide variety of temperature/relative humidy conditions making it an important tool for all types of packaging research and development.
Specification
| | |
| --- | --- |
| Industry: | Packaging |
| Gas: | Oxygen |
| Application: | Permeation |
| Test temperature range: | Sample and ambient temperature 5 to 40ºC (41 to 104ºF) |
| Typical flushing time: | 8 mins |
| Dimensions: | 285W x 70H x 215D mm |
| Weight: | 3 Kg |
Features and Benefits
Patented concept of measuring
Tests multiple packages
Non-stress volume tests
Data logging and traceability
Versatile research and development product
Very small sample volume
Fast response time
Ability to perform both oxygen headspace analysis and shelf life analysis
Applications
Test laboratories (consultancy companies)
Packaging manufacturers e.g. trays
Food manufacturers
PET bottle manufacturers
Universities and institutes
Downloads
Case Studies