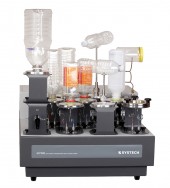 The ultimate solution for fast and reliable oxygen permeation testing of multiple bottles, packages or films.
8700 oxygen permeation analyzer
The 8700 with fixed platens is ideal for rapid permeation testing of multiple bottles in PET bottle manufacturing and as an invaluable R&D resource in laboratories for development work to test and validate new packages. In addition, this analyzer can be used for Quality Control, to confirm the performance and standard of the packaging. With ultra fast testing using Systech Illinois' Turbopurge™ technology this oxygen permeability tester can efficiently test up to 11 samples (expandable to 66) simultaneously in as little as 3 hours.
8701 oxygen permeation analyzer
Based on our proven oxygen transmission rate (OTR) instrumentation range, the versatility of the 8701 oxygen permeation analyzer allows flexible testing on multiple bottles, packages or films. The 8701 offers a range of optional adapters to provide versatile package testing of films, containers, canisters, pouches, bags, closures and more. Adapters can also be specially designed for your application.
Specification
| | |
| --- | --- |
| Industry: | Packaging |
| Gas: | Oxygen |
| Application: | Permeation |
| Measurement range: | Packages 0.00004 to 2000 cc/pack/day |
| Measurement range: | Films 0.04 – 100,000 cc/m2/day |
| Test temperature range: | Ambient |
| Controlled RH testing: | Dry and unknown wet RH (assumed saturated or 100% RH) |
| Calibration: | NIST referenced films and certified gases |
| Temperature control: | Ambient |
| Dimensions: | 760 x 590 x 350 mm |
| Weight: | 65 kg |
Features and Benefits
Measure 11 samples simultaneously – individually started, stopped or delayed. Easy sample connection and rapid measurements make the 8700 and 8701 the most efficient permeation analyzers available.
Ultra fast testing – the fastest stabilisation time for permeation measurement. Saving out-of-specification production time. Testing can be done in as little as 3 hours.
These analyzers are set up to eliminate errors and reduce operator training.
Confidence in your permeation measurement – the proven coulometric sensor provides you with reliable, repeatable and accurate measurements, time and time again.
Simple Windows based software control – easy to set up with Quickstart stored testing configuration settings and clear concise results presentation.
Low Running Costs, no special gases required. Industrial grade nitrogen is all you need.
Applications
8700 Oxygen Permeation AnalyzerIdeal for rapid permeation testing of multiple bottles
PET bottles
Coated PET bottles
Coated bottles for beer, wine etc.
Soft drinks bottles
Bottle closures
8701 Oxygen Permeation AnalyzerIdeal for flexible testing of different packaging types
Pet food pouches
Cereal packages
Pharmaceutical packaging
Trays
Complete packaging
Barrier films
Fruit juice containers
PET bottles
Downloads