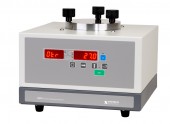 The 8501 offers a cost-effective solution for accurate, reliable measurement of oxygen transmission rate (OTR) through permeable films.
Laboratory quality analysis of packaging film barriers in a simple to use benchtop system. This precision oxygen permeation analyzer combines trace oxygen sensitivity, dependability and exceptional ease of use in a compact, single chamber.
The proprietary sensor design allows for extremely fast, accurate results. The 8501 is ideal for high volume production facilities with a purge time of only 30 minutes and test times as short as 20 minutes. With a 2 button operation it is simple to operate and requires little or no operator training. This oxgyen permeability instrument is easily calibrated to a certified NAMAS / NIST traceable calibration gas, making the test results traceable to current NAMAS/NIST standards.
Specification
| | |
| --- | --- |
| Industry: | Packaging |
| Gas: | Oxygen |
| Application: | Permeation |
| Measurement range: | Films 1 – 99,999 cc/m2/day |
| Test temperature range: | 15 to 40°C (59 to 104°F) |
| Controlled RH testing: | Dry only |
| Calibration: | NIST referenced films and certified gases |
| Temperature control: | Automatic |
| Dimensions: | 356 x 356 x 279 mm |
| Weight: | 18.2 kg |
Features and Benefits
Digital electronics
OTR displayed as cc/m2/day or cc/100in2/day
Automated test routine
Scaleable analog outputs
RS232 output
Data logging capabilities
Low cost system
Accuracy traceable to current NAMAS/N.I.S.T standards
Sensor life indicator
Applications
Produce manufacturers
Packaging manufacturers
Process companies
Food companies
Converters
Distributors
R&D
Downloads