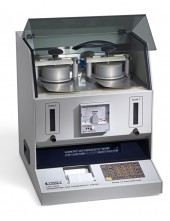 Manometric gas permeation analyzer Lyssy L100-5000
A versatile gas analyzer for measuring the permeability of any common gas or gas mixture through films and foils.
Typical gases measured include air, oxygen, nitrogen, carbon dioxide, hydrogen and helium. This instrument utilizes the manometric principle one of the most recognised gas permeability testing methods – pressure change via gas transmission through films.
With two measuring chambers, ease of operation through the alpha-numeric keyboard and digital display, the L100-5000 has the versatility of measuring permeation of almost any gas, both for advanced laboratory research as well as for quality control in a production setting.The L100-5000 analyzer is capable of measuring within a broad range of low and high permeabilities and can therefore be used to test a variety of materials. Test results are exposed directly in cc/m2/day. and are documented using the built-in printer.
Specification
Industry:

Packaging

Gas:

Carbon Dioxide

Oxygen

Application:

Permeation

Measurement range:
1 – 10,000 cc/m2/day
Test temperature range:
5 to 75°C (41 to 167°F)
Ambient humidity:
10-90% RH (non-condensing)
Dimensions:
480 x 400 x 486 mm
Weight:
28 kg
Features and Benefits
Automatic equilibrium detection
Flexibility in the use of the two measuring chambers
Suitable for all permanent, non-corrosive gases
Fast and accurate test result
Built-in printer
Easy to use operator interface
Simple to operate due to the high degree of automation
Extremely broad testing range, covering low and high permeability
Complete traceability in test documentation, data logging and error reports
Easy to use test sample holders
Low degree of maintenance
Applications
Packaging films for food and tobacco
Material for contact lenses
Coated paper
Complex protection membranes
Downloads