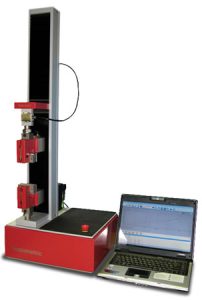 The M100-1 CT is a small footprint, single column, computer controlled universal materials testing machine using Testometric's feature-rich winTest™ Analysis software running under the Windows™ operating system. Test setups are fully configurable and simple or more complex multi-stage test routines are controlled using the standard PC serial interface.
Standard Specification
Machine Capacity
1kN
Speed Range
0.001 to 1000mm/min
in steps of 0.001mm/min
Crosshead Travel (excluding grips)
620mm
Throat mm
200mm
Features
Self diagnostics software with on screen notification icons. Connection for remote monitoring of machines, with on-line service.
Grade 0.5 load cells to all international standards including EN10002-2, EN7500-1, DIN51221, ASTME4, AFNOR A03-501, JISB7721. Grade 0.5 from 0.4% to 100%.
Digital display of force, displacement, cell capacity, speed, position, mode, units etc.
Real time graphic display with multiple axis selection, autoscaling etc.
Manual control of crosshead with all functions.
Configurable for cyclic and complex multi stage test procedures.
Fully digital testing system with high precision control and accuracy, includes automated computer control of test methods.
High resolution auto ranging load cells with accuracies better than +/-0.5% down to 1/1000th of the load cell capacity.
Automatic recognition and calibration of load cells and extensometers, with instant calibration check facility.
800% overload capability of load cells without damage. Overload, overtravel and impact protection.
Crosshead guidance system providing precise alignment and smooth running.
Precision crosshead control via digital AC servo drive and brushless servo motor giving maintenance free operation and 4,000,000 steps per revolution positional control.
High speed data collection systems for up to 4 synchronous channels.
6 I/O channels for additional devices such as extensometers, micrometers, callipers, balances etc.
High stiffness loading frames with solid specialised steel crossheads and rigid extruded support columns with T-slots for accessory mounting.
Software
Comprehensive winTest™ Analysis universal windows software covering tensile, compression, peel, shear, tear, cyclic, creep and multi stage testing. It includes a wide range of industry standard test methods and facility to create and store an unlimited number of further test methods. There is automated storage of all test data and ease of export to other software packages such as word, excel, access and SPC systems for enhanced report generation.