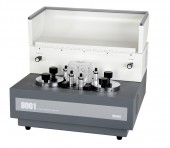 Modular systems for precision oxygen analysis of packaging film barriers.
The 8001 is a versatile and easy to operate oxygen permeation analyzer with 2 stations for testing films or packages. Offering the highest quality coulometric oxygen sensor in the market with the lowest replacement cost, this instrument provides extremely fast purge down times and accurate readings at the lowest levels. With widest measurement range in the market, this analyzer can be used for research and development permeation testing and has the speed required for use in Quality Control testing.
The 8001 oxygen permeation analyzer offers precision temperature, humidity and flow control providing consistent and repeatable test conditions. With a wide sample temperature range and a controllable Relative Humidity range, this oxygen permeability tester is able to provide the fastest changeover from wet to dry sample runs.
Expansion modules are available for up to twelve simultaneous oxygen permeation measurements to increase testing throughput.
Specification
| | |
| --- | --- |
| Industry: | Packaging |
| Gas: | Oxygen |
| Application: | Permeation |
| Measurement range: | Films 0.008 – 432,000 cc/m2/day |
| Measurement range: | Packages 0.0004 – 2,000 cc/pack/day |
| Test temperature range: | 5 to 50°C (41 to 122°F) |
| Controlled RH testing: | Dry (0% RH) or generated RH (20 to 90%) |
| Calibration: | NIST referenced films and certified gases |
| Temperature control: | Automatic |
| Dimensions: | 533 x 533 x 305 mm |
| Weight: | 28.1 kg |
Features and Benefits
Analytical Systems Manufactured Traceable to NIST
System validation with certified gas or film for speed and convenience
Wide measurement range providing research grade flexibility
Flow, temperature and humidity control for ultimate responsiveness and repeatability
Coulometric oxygen sensor enhances analytical precision
Intuitive Windows based software
Fast permeation results
No liquid coolants, catalysts or special gas mixtures required
For medical and pharmaceutical permeation testing, we can offer software which conforms to 21CFR Part11.
Applications
Barrier films
PET bottles
Containers
Canisters
Flexible pouches
Bags
Downloads
Case Studies